PIT-Boat protection
Expensive outer motors on your boat are very susceptible to theft. You secure these now with our Pit-Boat security sets.
Its as easy as effective: Just slide the Pitlock bolt through the transom and motor plate to additionally fix it with it. Like any other lock, only you will be able to open it again with your lock. Incase of lost or if you want to order more, you can reorder the security set or the single key anytime with the provided code.
Pit-Boat security sets are available in two different sizes, depending on the size of the motor itself:
Pit-Boot M10

M10 Bolt with M10x1 thread for small or medium seized outer motors.

Pit-Boot M12

M12 bolt with M12x1 thread for larger outer motors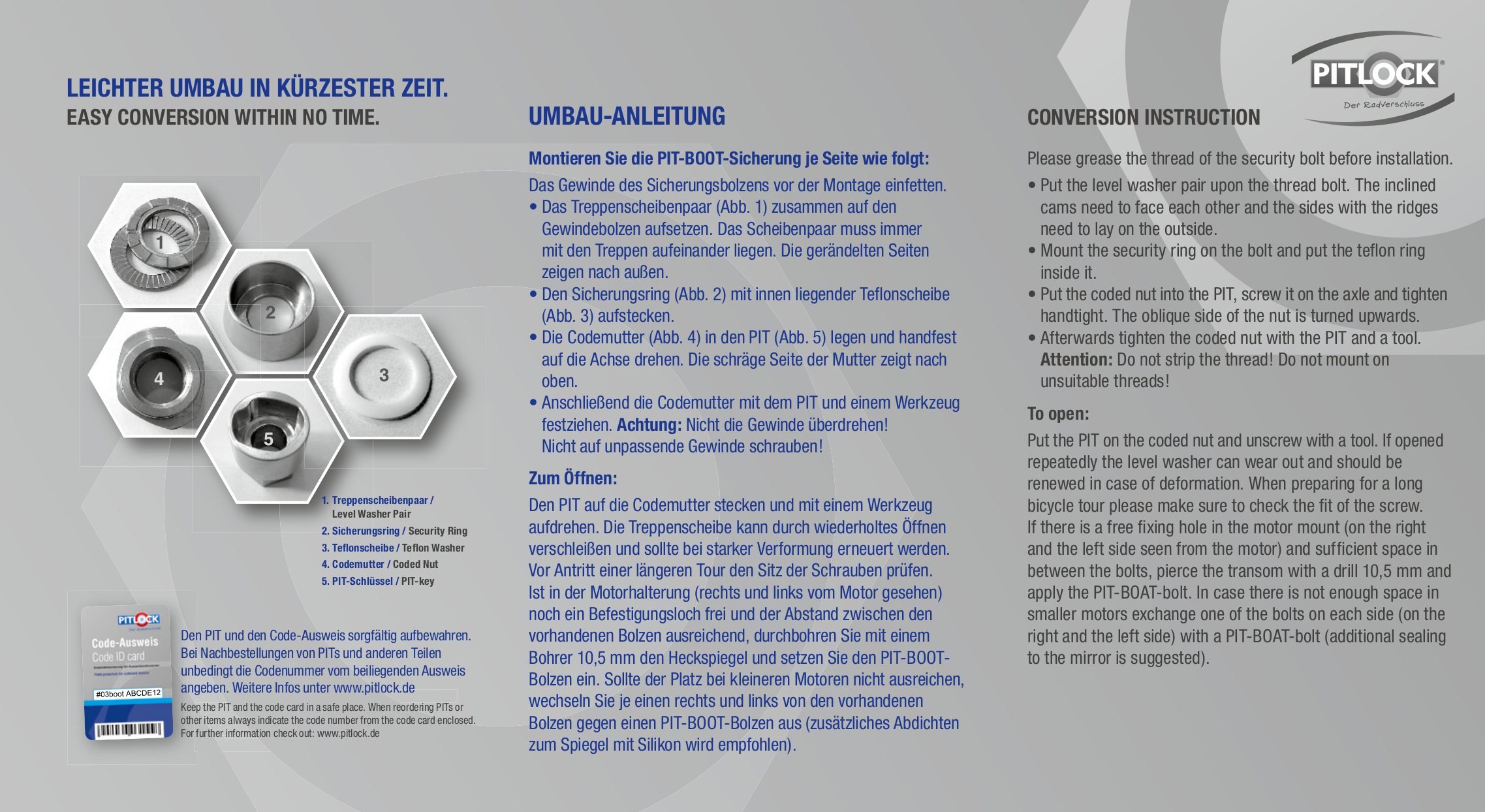 Secures your outboard motor with 1 PITLOCK bolt M10 x 2

Secures your outboard motor with 1 PITLOCK bolt M10 x 1
Weitere Produkte
High quality stainless steel skewer for front wheels. Without closure.

Security lock for solid axle hubs and track hubs with M9 x 1 thread.
article: 1 Pitlock dropout security axis material: high quality, stainless steel, teflon content: 1 Pitlock axis M5 with head, continous thread and closure plus M8 threaded sleeve. measures: Entire length without head 30 mm, max. installation width 200 mm, sleeve M8 10 mm long. function: Secures the unscrewable dropouts by using a M5 axis and a M8 threaded sleeve. Repurchase to secure unscrewable, vertical dropouts. Individually coded, amteches the available Pitlock system! !Order only possible with code number! It is sufficient, to exchange only one of the four screws on the unscrewable dropout with the Pitlock security.

Security thru axle for Suntour forks (QLoc) with 10mm dropouts. 15x100mm.